No matter how successful your eCommerce business becomes you're always looking for more customers. Everyone wants to grow and find new revenue streams.
But how do you do that?
If you're someone who owns their own online store, one of the best ways to expand your business is to start selling your products on online marketplaces, like Amazon and eBay.
In this article, we'll go over the benefits of this strategy and give you some tips to a better chance of success. 
Why Should You Sell on Online Marketplaces?
There are a number of reasons to grow your business beyond your own online store:
Find New Customers:

As an independent store, you need to spend a lot of time and money in order to attract new customers. Larger sites like Amazon already have millions of customers, and by selling there you're able to tap into them.
Increase Brand Awareness:

Another benefit of growing your customer base is exposing more people to your brand. As more consumers become aware of you you'll increase your following, which will benefit your business in the long run.

Less Risk:

If you're only selling in one place you're taking on more risk. If something happens to your store or the eCommerce platform you use it could be detrimental to your business. By selling in multiple locations you're diversifying your operation. That way, if something happens to one of your channels you'll still have your other revenue streams.
There are very few, if any downsides to selling on multiple channels. So, if you're looking for ways to reach new customers and grow your store this is likely a wise decision.
Which Marketplace Should You Sell On?
As we touched on earlier, the more online marketplaces you can sell on the better. However, that doesn't mean every one of them will suit your business.
We've outlined the four biggest marketplaces below so you can choose the ones that are best for you.
Amazon
If you're looking for the website with the most traffic, this is it. Amazon has become the world's largest retailer, which is why so many businesses sell there.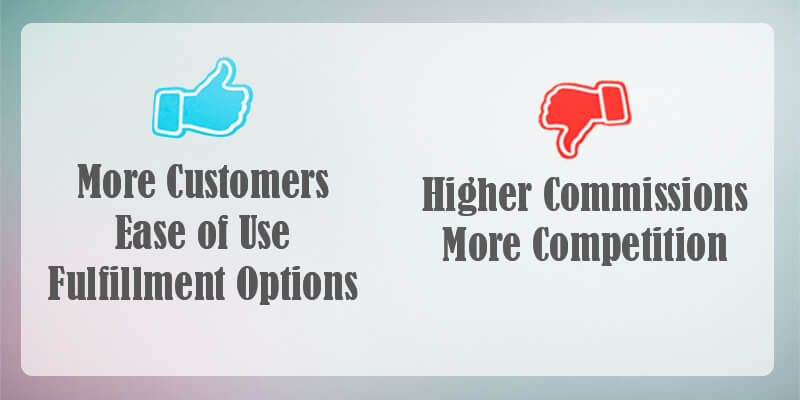 Pros
More Customers:

Amazon makes up 49% of all eCommerce sales, meaning there really isn't another marketplace that can touch them in that regard.

Ease of Use:

The company has made it extremely easy for anyone to sell on their platform. Their interface is user-friendly for sellers of all experience levels.

Fulfillment Options:

Amazon's FBA program allows you to ship all your inventory to them. They'll store it for you and ship orders to your customers. This is one of the reasons why it's often easy to

make money with Amazon

.
Cons
Higher Commissions:

Amazon generally takes a larger cut of your sales than other marketplaces.

More Competition:

While there are more customers, there are also more sellers to compete against.
eBay
eBay is the clear number two when it comes to online marketplaces. They've been around since the late nineties and are still extremely popular.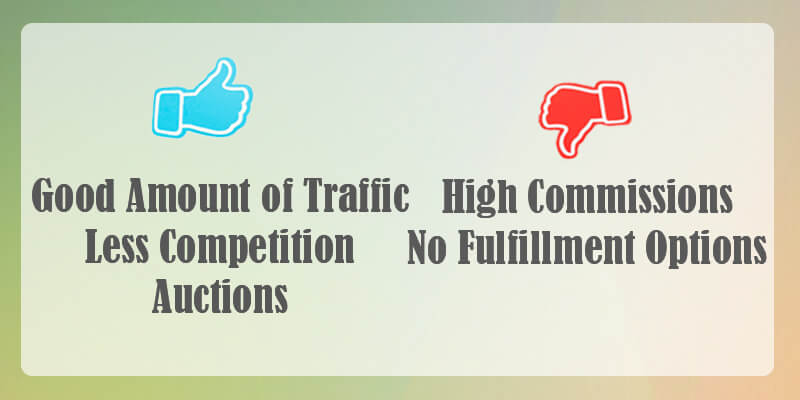 Pros
Good Amount of Traffic:

While they don't have as many customers as Amazon, eBay still drives a lot of traffic. As of 2019,

they had 183 million active users

.

Less Competition:

Because there are fewer sellers on eBay you'll have a better chance to get your items seen.

Auctions:

eBay is the original online auction site. If you sell used or unique items this could be a great way to get the most amount possible for your products.
Cons
High Commissions:

While their fees are less than Amazon's, compared to other marketplaces they're still on the high side.

No Fulfillment Options:

eBay doesn't have a program like FBA, so you'll have to store your own inventory and fulfill your orders yourself.
Walmart
When people think of Walmart they mostly think of their physical locations. But the company has been growing its online sales and now allows third-party sellers to offer products on their website.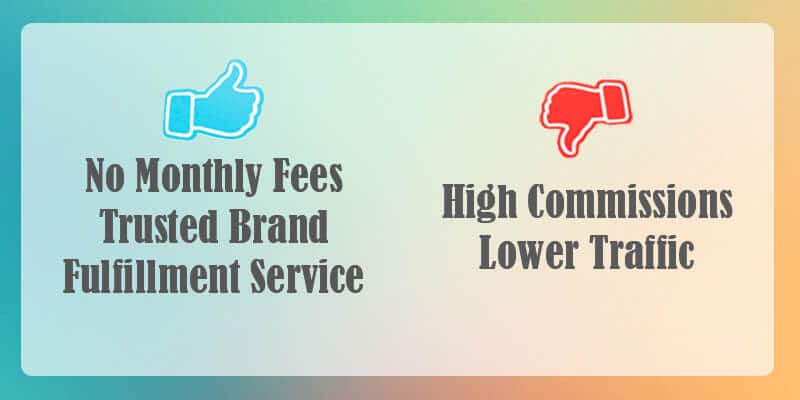 Pros
No Monthly Fees:

Most other marketplaces (like Amazon) charge a monthly fee to have an account, but Walmart only charges commissions.

Trusted Brand:

Everyone knows Walmart and they've built up a lot of trust with consumers. When you sell on their marketplace you'll benefit from that trust.

Fulfillment Service:

They offer a fulfillment service similar to Amazon to help you serve your customers better.
Cons
High Commissions:

This is another marketplace that will take a large cut of your sales.

Lower Traffic:

Walmart generates fewer online sales than Amazon and eBay.
Etsy
Compared to the other entries on our list, Etsy is relatively new but they're growing fast. It's definitely worth considering if you're looking for additional marketplaces to sell on.
Pros
Lower Commissions:

Etsy's commissions are by far the lowest on this list, which will allow you to keep more of your profits.

Great for Handmade Items:

If you sell handmade goods then this marketplace is definitely for you. Etsy specializes in this niche, meaning their customers are looking for these types of products.

User-Friendly:

Creating a store on Etsy is super easy, even for beginners.
Cons
Limited Categories:

Etsy sells handmade goods, craft supplies, and vintage items. If your products don't fit into one of those categories you can't sell there.

Low Traffic:

Etsy currently has just under 40 million active users

. While that may sound like a lot, it's much lower than the other three on this list.
5 Tips to Help You Expand to Other Online Marketplaces
If you're new to selling on other online marketplaces you're likely wondering what the best way to go about it is.
Here are a few tips to get you started:
Automate as Much as Possible
By expanding your sales channels you'll also be increasing your workload, which means you'll want to automate different areas of your business.
This includes:
Hire Professionals to Create Your Listings:

Outsource your product listing creation and optimization to experts. Not only will this save time, but it will also improve your results.

Bookkeeping:

Use software like Xero and Quickbooks to automate your bookkeeping.
The less time you have to spend on day-to-day tasks, the more time you'll have to run your business.
Utilize Fulfillment Services
Processing, packing, and shipping orders is extremely time-consuming, which is why many sellers are turning to fulfillment services to take this work off their hands.
The most well-known of these services is FBA, which is available to any Amazon seller. Simply send all your inventory to them and they'll take care of everything for you, including storage, packing, and shipping.
For items that aren't sold on Amazon, there are a number of companies that provide similar services. If you're interested do your research and find one that suits your business.
Manage Your Inventory
Making sure you never run out of stock is critical to your success in the eCommerce industry. And the more online marketplaces you're selling on the more complicated it gets.
If you're struggling with this, consider using inventory management software to keep track of your stock and alert you when you're running low. You may even want to hire a VA to monitor this and ensure nothing is missed.
Sell on Multiple Channels
It's worth mentioning this one more time: try to sell on as many channels as possible. Not only does this increase the number of customers you can reach, but it also limits your risk.
That being said, don't start with too many too fast. If you only sell on your own store, expand to one more marketplace. Learn how it works and get comfortable selling there. Then, once that channel is up and running move on to another one.
Grow Your Brand
Since you'll be exposing yourself to more customers, take this opportunity to grow your brand.
If you haven't done so already, hire a designer to create a logo and then make sure that's visible everywhere you sell. You want people to know that they're buying from you, not Amazon or eBay or whatever marketplace you're selling on.
Amazon actually has tools to help you grow your brand awareness. When you register your brand with them you can tell your brand story on your page, advertise your brand on their site, and have your own branded store.
Conclusion
Running an eCommerce store is great, but don't limit yourself to just one channel. If you want to find new customers for your products then consider expanding to other online marketplaces.
If you do it right you'll be able to grow your business much faster and get your brand in front of a lot more people.
Please let me know if you liked the post. Just click on one of the two buttons