An internal Facebook research showed how the social media platform is in decline.
While the social network has been adding to its 2.3 Billion users (Social Media Today, Jan 30th 2019), its usage is in decline.
Facebook users turn now to Instagram and Whatsapp and also Snapchat, whose daily number of users has been growing exponentially (Search Engine Journal, 24th July 2019).
They are also turning to some of the new social media channels available on the market like TikTok.
In this article we are going to answer to some of the main questions about these trends.
Is Facebook still growing?
Facebook growth has slowed down in established markets like US and Canada, while it's negative in Europe (The Verge, 30th October 2018).
Overall Facebook is still growing thanks to its international expansion increasing the number of new users 9-10% year-on-year (based on 2018 third quarter earnings report).
Is Facebook usage down?
While there are some mixed reports claiming Facebook usage is up (CNBC, 22nd July 2019), its engagement has been on a negative trend for a few years.
Facebook users tend to prefer messaging apps like Whatsapp and ephemeral ones like Snapchat or Instagram stories.
Why is Facebook usage down?
The social network has a very low organic reach (Social Media Today, 24th July 2019), which tends to bring organic engagement down.
Privacy is also one of the main reasons why people are using Facebook less and less (Social Media Today, 24th July 2019).
On the other hand, ephemeral social media platforms like Snapchat and messaging apps like Whatsapp are on the rise.
Is Whatsapp growing?
Whatsapp confirmed it reaches 400 million active users in India, out of 450 million smartphone users overall (Social Media Today, 27th July 2019).
Whatsapp amounts for 1.5 billion users worldwide and could be the first to use Facebook's cryptocurrency.
Is Snapchat growing?
Snapchat gained +13 Million active daily users Q1 vs Q2 2019 (Search Engine Journal, 24th July 2019).
This is an 8% increase quarter-on-quarter.
Why is Snapchat growing?
Besides the already-mentioned privacy concerns, Snapchat has been growing as the 'Anti-Facebook', attracting a much younger segment of the population.
More recently, two new features are worth-mentioning about its fast growth:
Renewed focus on its Android app
The Android version of the app was trailing behind its iOS counterpart. A number of new features boosted the number of users for what is the most used mobile OS in the world
New Face Filters
Their new face filters, particularly the one that makes users look like their opposite sex, went viral.
While it's difficult to predict how long the viral effect will last, it's widely accepted that this has further contributed to Snapchat's most recent growth.
Is Instagram growing?
Instagram, together with Snapchat, is one of the platforms unengaged Facebook users seem to turn to.
The latest stats give Instagram a 1 Billion monthly users, making it the third, biggest social media platform after Facebook and Youtube (Angie Gensler via Social Media Today, 24th July 2019).
By the end of the year Instagram is expected to account for nearly a quarter of Facebook's ad revenue (Sprout Social, 22nd April 2019).
Having said that, Instagram is testing some new features that might have an impact on its growth in a positive or negative sense.
One of the new features is about hiding likes from posts (Increasily, 18th July 2019).
The test was launched in Canada and is currently being extended to six more countries.
If the feature will be made permanent, this could potentially mean a huge blow for influencers (Inc. 23rd July 2019).
In this always-evolving social media landscape, it's important to choose the right social media platform for your business.
Another new feature is a 'Stories about  you' activity section (WeRSM, 28th July 2019).
In brief, Instagram is testing showing stories mentions in a section separate from all other notifications.
Is Instagram ad load increasing?
Following Facebook's drop in usage and engagement, marketers might turn to its sister-property Instagram.
Some of them noticed an increase in Instagram ad load reporting up to 1 ad every 4 posts (Marketing Land, 26th July 2019).
The ratio ads are being shown to users on Instagram depends on a number of factors including pages your and your friends like, information shared on your Facebook and Instagram profiles as well as check ins.
Which social media platform should I use?
Before deciding which social media channels is best for you or for your business, it's worth answering to some questions (Hubspot, n/a) [accessed 24th July 2019].
However, the two key questions guiding your choice are:
is my audience on that platform?
does the platform fit my style / the style of my brand?
For example, if you are targeting predominantly a female audience, it's a no brainer to choose Pinterest with its 80% female audience and a median age of 40.
If mass exposure is what you are looking for, then you must consider Facebook (all ages, 53% female) and Youtube (all ages, 62% male).
However, if you are looking for a younger audience, you definitely want to consider Instagram (68% female, 18-29 median age).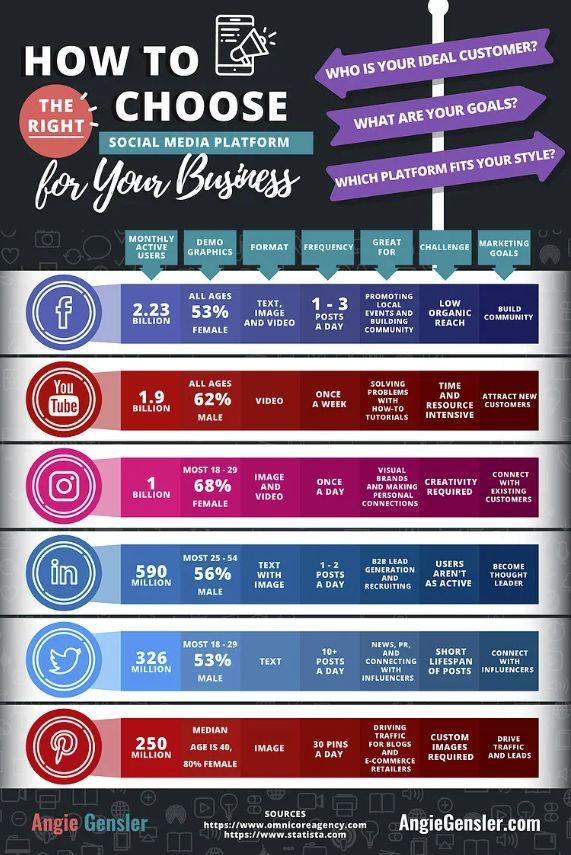 If your audience is even younger than Instagram's then you definitely want to start experimenting with some of the new social media platforms.
What are the social networks to watch in 2019?
A number of social media platforms are emerging in 2019.
Hubspot picks five of them (Hubspot, n/a) [accessed 24th July 2019]:
TikTok
Caffeine
Lasso
Houseparty
Streemit
Among these, probably one of the most interesting and fast-growing ones is TikTok.
Launched in 2017, its numbers are already impressive: 800 million downloads, +500 million active users.
Its audience is even younger than Instagram's with 66% of its global audience under 30 and 60% of its US audience between 16-24 (Mediakix, 7th March 2019 via Hubspot, n/a).
The platform is a mix between Vine and Musical.ly. You upload your short videos and add filters, music overlays and fun effects.
Besides TikTok, another interesting one is Lasso. It's very similar to TikTok and it's powered by Facebook.
I hope you like this article, folks! If you have already used one of these new platforms, I would love to hear from you in the comments or via email.
For now, have a great week!
Listen to the audio version of the article:
Audio file courtesy of Text2Speech.org
Featured image by NordWood Themes on Unsplash (Unsplash, n/a) [accessed 25th July 2019]
Please let me know if you liked the post. Just click on one of the two buttons