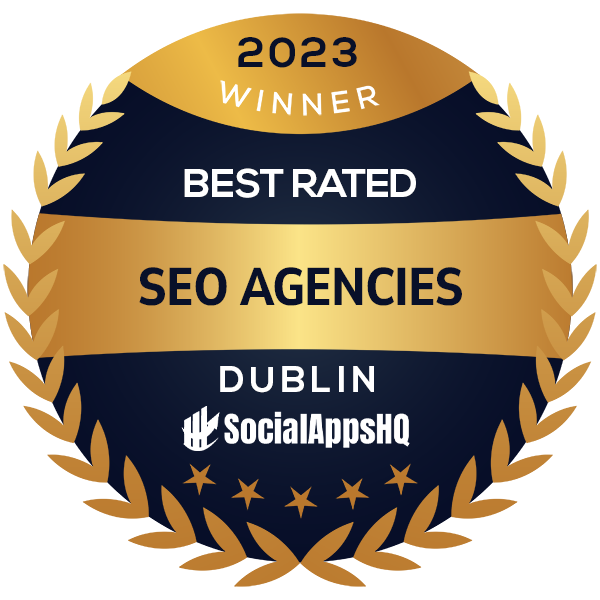 We are thrilled to announce that Increasily has been officially recognised as one of the Top 10 SEO Agencies in Dublin, an accolade presented by the renowned SocialAppsHQ. This achievement serves as a testament to the hard work and dedication of our exceptional team and reaffirms our commitment to delivering top-notch digital marketing solutions for our valued clients and partners.
At Increasily, we take pride in being a Human-to-Human (H2H) marketing agency, where our primary focus is building genuine connections with our clients and helping them achieve their business goals. Specialising in Search Engine Optimisation (SEO) marketing, we understand the ever-evolving digital landscape and the importance of search engine optimisation in driving online success.
Our team comprises of experienced professionals who are well-versed in the art of SEO and offer a comprehensive suite of digital marketing solutions tailored to suit our clients' unique needs. Whether it's boosting your website's visibility through strategic SEO techniques, creating effective PPC campaigns, managing your social media presence or designing user-centric websites, Increasily is your trusted partner in navigating the dynamic world of digital marketing.
This achievement, presented by SocialAppsHQ, is a celebration of how far we have come, however, being recognised as one of the Top 10 SEO Agencies in Dublin would not have been possible without the trust and support of our valued clients. We are honoured to stand alongside other esteemed Dublin based agencies on this prestigious list.
If you are looking to enhance your brand's online presence, connect with your target audience, and drive more profits, Increasily is here to make it happen. Contact our team today at [email protected] to explore how our services can transform your digital marketing strategy. Join us in celebrating this milestone and let's embark on a journey to digital excellence together!