TikTok in Ireland: Amazing Stats & Curious Facts (May 2021) – In this article I am sharing some top level stats and curious facts about TikTok in Ireland.
I will be updating the blog post as more news and data become available.
What is TikTok?
Tik-Tok is a social-sharing and video messaging app owned by ByteDance. Its main feature is about creating short videos 15-60 seconds-long, often with a soundtrack.
How Many People Use TikTok in Ireland?
According to the latest stats from Datareportal Digital 2021: Ireland's report (April 2021), 30.4% of active social media users age 16-64 has used TikTok in the past month.
According to the latest a survey by Ipsos MRBI (December 2019), there are were 90,000 people over 15 years of age using TikTok in Ireland. 43% would use the app daily, a 10-point increase since June 2019.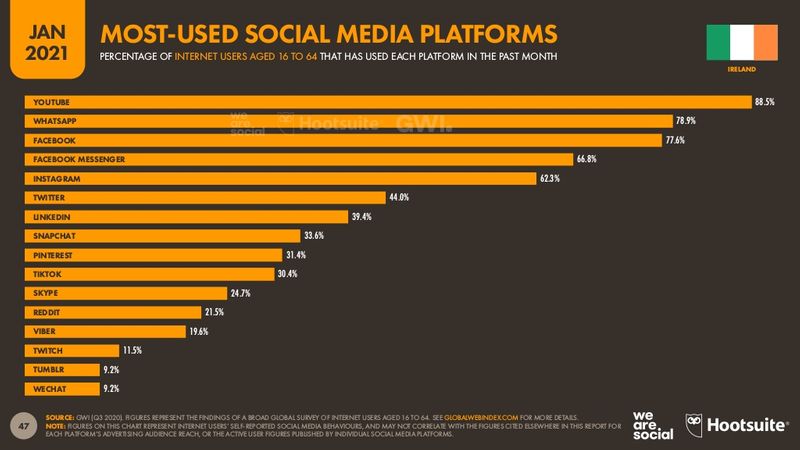 Who Are the Top Influencers on TikTok in Ireland?
These are the top Irish influencers on TikTok (as of 21st May 2021):
Curious Facts
According to this article by the BBC, TikTok has a ban on religious conflict 'alongside the independence of Northern Ireland'.
There is a house in South Dublin called the G.O.A.T House (G.O.A.T. = Greatest of All Times), where a number of Irish TikTok influencers live and work full-time in what is effectively a 'content creation hub'.
Latest TikTok News (Ireland)
Sample Videos
These are a couple of sample videos we at Increasily created for our own account and for our client's:
If you need help with TikTok, make sure you check our video marketing or social media services.
Sources
https://www.thesun.ie/tvandshowbiz/5873880/irish-dance-cairde-tiktok-storm-million-followers/
https://datareportal.com/reports/digital-2021-ireland
https://unsplash.com/photos/ft9xWD1dmnY
Please let me know if you liked the post. Just click on one of the two buttons