Doing anything for the first time can always be quite nerve-racking. There are always lessons that need to be learned. However, being prepared can help to make sure that everything goes as smoothly as possible.
Considering that, we are going to take a look at some of the different things you can do to ensure that your first-ever marketing presentation is a success.
Make sure to report analytics and data in a method that is easy to understand
When giving a marketing presentation, it is likely that you are going to have quite a lot of data that you need to display. After all, marketing decisions are based on extensive research regarding the target audience in question and the way they consume information today.
Presenting this information in an attractive manner that is easy to understand is not always straightforward. You need to carefully think about the best way to display your data so that you do not overwhelm or confuse the audience.
The good news is that there are lots of great templates for report-style presentations. You can make your own report online for free using these templates so that the data you present looks great and is presented in a way that is easy to digest.
Back your proposal with value
The most effective way of marketing a brand, policy, or product is by backing it with a value that generates an impact. You can do this by adding a social responsibility to it, for example.
For instance, if you are selling an item, you may want to ensure a specific percentage of all of the profits goes to charity. Show your customers that making a purchase with you will also make a real difference in someone else's life.
By doing this, not only are people going to want to buy from you because of the quality of your products but also because of the cause.
Another effective marketing technique when it comes to adding real value is by addressing a genuine problem and then offering the solution.
If you own a business that is service-oriented, promote a possible issue, for example, a lack of knowledge in young entrepreneurs or loopholes in startups, and then show how the solution you offer will address this.
Use quality images
The importance of quality images and graphics should not be overlooked when giving a presentation. There is nothing worse than looking at blurry images when they're on your desktop screen, let alone when you blow them up to 100x the size.
This is why it is important to set aside some time so that you can source high-quality, visually stimulating images for the marketing presentation you are going to be giving.
If you want to use memes, it would make sense to create your own. A lot of the memes on the Internet today use very poor-quality images, which leaves you with the problem we've just discussed, so take matters into your own hands instead.
Don't underestimate the importance of the first slide
Hooking the audience on the first slide is of huge importance when giving any sort of presentation.
There are many ways you can do this, including intriguing data, statistical facts, a powerful rhetoric question, or an impactful quote.
This will compel your audience to want to find out more and ensure they are focused throughout the presentation.
Stick to your brand palette
Whenever you are presenting content, it is imperative to maintain a specific color theme. One of the biggest mistakes we see brands make is that they do not stick with their designated code.
For example, if someone gives you two colors, for example, red and yellow, and asks you to think of the first brand that pops into your head, we're sure it would be Mcdonald's. This is because everything they do sticks within that yellow and red palette, meaning it is virtually impossible to distinguish the brand from the color scheme.
If you start playing around with different colors, you are only going to end up diluting your brand presence, which is the last thing you want.
Make your audience feel like they know you
Next, it is important to make your audience feel like they have a personal connection with you. The key here is to achieve this without there being any sort of narcissism, which can crop in quite easily when delivering a presentation.
Rather than going for a big introduction to try and get people to feel like they know you, the better approach is to weave some personal stories into your slides.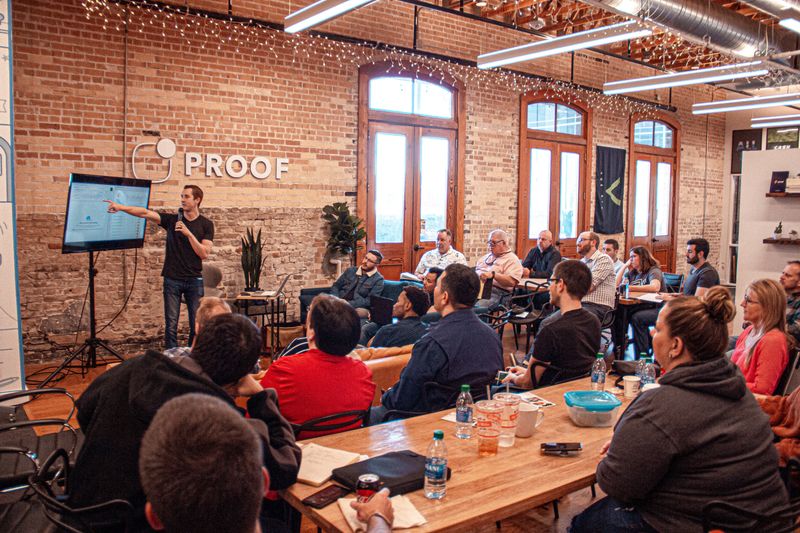 Take your audience on an emotional journey
Marketing is all about emotions, isn't it? It's about connecting with people and ensuring they feel an emotional attachment to your brand. You need to aim to create this same feeling when you are putting together a marketing presentation.
Make sure it is your mission to make your marketing presentation stand out from the crowd. Create something that is memorable, which people will connect with and talk about for weeks to come.
When you are presenting something on a topic that may not be the sexiest, such as paid search, it can be challenging to create a story arch that blows your audience's mind. However, it can be done.
The key here is to make sure you take your audience on an emotional rollercoaster. When an ad awakens someone's emotions, they are going to be more engaged. You are looking for the same sort of 'hook' with the presentation you are giving.
So, you need to address the pain points that the audience is experiencing. Next, you can show them how they can get eradicate this issue with your solution.
Use humor wisely
Just because you are giving a serious presentation does not mean it needs to be bland or boring. Instead, incorporating some jokes here and there can boost audience engagement levels.
There are a number of different ways you can add humor to your slides, including memes, GIFs, and wordplay. However, make sure the humor is relevant to the content that is being presented, rather than being a distraction. Humor should never appear forced. It should always be natural.
As mentioned earlier, when it comes to memes, you do need to create your own purely because those on the Internet are of low resolution and quality. Nevertheless, this should not take much time, and it can be a lot of fun too!
There are online tools like Meme Creator and Imgflip that make it easy for you to upload your own image, and then you can easily overlay meme-style text.
In terms of GIFs, you can utilize GIPHY, which has a massive selection of GIFs available. Plus, the refined search function means you can easily find the right GIF for you.
Establish a content theme and stick with it
As important as it is to maintain a color palette for your business, it is vital to establish a theme. For example, do you want black and white illustrations? Are you interested in creating a minimalist style? Do you prefer a tropical theme? Or what about a botanical theme? These are just a handful of examples!
You can determine the best approach based on your purpose, vision, and strategy. Not only will this provide you with an identity but it helps to make sure you stand out from your competition as well, which is always critical. Everything you do, from your graphics to your font, needs to reflect your theme.
Have less slide content rather than more
Our final piece of advice is that it is always better to have less content on your slides, rather than more.
If your slides are filled to the brim with content, it can be quite overwhelming, to say the least! Your audience will feel like they are being overloaded with information, and they can quickly lose interest.
This is why it is vital to keep your slides short and sweet. Make sure you only included information that is needed. Slides should be there to support speech, rather than replace it.
Time to ace your first marketing presentation!
So there you have it: everything you need to know about acing your first marketing presentation. We hope that the advice and information we have provided you with above will help you to put on the best presentation for everyone in the audience.
Remember, do not be too hard on yourself! There are always things that we could do better at the end of any presentation. The key is to learn from the mistakes you made so that you can be better next time.
Presentations certainly represent an area whereby more practice is needed to master the art.
Featured image by Product School on Unsplash.com
Please let me know if you liked the post. Just click on one of the two buttons