In this article I am writing about geofencing marketing. If you have never heard of it, by keeping reading you will learn what it is, its most common applications and how you can include it in your digital marketing strategy.
First, I want to make sure I cover the basics!
Geofencing: General Questions
What is a Geofence?
A geofence is a virtual perimeter set around a geographical location. It can be a radius around a point or a predefined set of boundaries.
What is Geofencing?
Geofencing is the use of a geofence for achieving a specific purpose (for example, for monitoring devices within a given virtual perimeter).
How Does Geofencing Work?
Geofencing works by setting a virtual perimeter around a geographical location.
A virtual perimeter can be set by using Global Positioning System (GPS), Radio Frequency Identification (RFID), Bluetooth or Wireless Fidelity (Wi-Fi) technology or cellular-data.
The virtual perimeter or geofence will then trigger a response when a given device enters or exits the virtual space.
Geofencing vs Geotargeting
Geotargeting targets users or devices based on their desktop location, while geofencing targets users or devices based on a given virtual perimeter.
Geofencing vs Beaconing
Beaconing targets mobile devices based on their location, while geofencing targets any device on a given virtual geofence.
What Are Geofencing Applications?
Geofencing is used in a number of industries. These are some of its most common applications:
To tell a parent if a child leaves a designated area
To allow firearms to work only within a given virtual perimeter
In Telematics
In human resources, to monitor employees working in specific areas
To alert about a stolen vehicle
To communicate safety announcements to tourists
To restrict the use of technology such as wi-fi
A great deal of geofencing applications happen within the marketing industry. This led to the creation of the term 'geofencing marketing'.
What is Geofencing Marketing?
Geofencing marketing is a type of location-based marketing targeting an audience based on their location within a given virtual perimeter.
Geofencing marketing is widely used by both brands and small businesses.
Geofencing Marketing: Statistics and Data for 2022
The following are some of the most interesting stats and data about geofencing marketing for 2022:
Geofencing Marketing: Applications
These are some of the most common applications of geofence marketing:
Social Media Networks
Snapchat's location-based stickers and filters are only one examples of geofencing marketing in social media networks.
Ads are the most common use of geofencing marketing in social media (source: smartbugmedia.com):
All the major social media platforms (Facebook, Instagram, Snapchat, Twitter) have geofencing capabilities. Through these platforms you define your radius, and ads are sent to consumers when they enter that geofenced area.
Social media platforms like Twitter also use geofencing marketing for data reporting: for example, to see what topics are trending within a certain geographical area.
Marketing
Store owners can alert their customers about special promotions as soon as they enter the virtual perimeter of the store.
They can also target them as soon as they leave the geofence with coupons, thank you messages or other marketing material.
Theoretically, you can also set up a virtual perimeter around your competitor's location and target their customers.
Crowd Engagement
Geofencing marketing is used at concerts, festivals and events to engage with the crowd (for example, by sending them information about the event they are attending).
Brand Application
It's common for big brands to develop their own apps so that they can send in-app messages and notifications to their customers also based on their location.
Third Party Apps
Smaller brands that don't have their own app can use third party apps to avail of their geofencing marketing capabilities.
Text Engagement
Text messages can better target users based on their location within a given geofence.
Web Ads
This is similar to social media ads, where users get served an ads based on their location within a given geofence.
As you can see, there are plenty of ways you can apply geofencing marketing to your digital marketing strategy.
I am now going to dig a bit deeper into the digital marketing aspect of this topic.
Geofencing Marketing and Digital Marketing
Now that you know how geofencing marketing works and what its most common applications are, it's time to think if it's worth including it in your digital marketing strategy.
Let's look at some of the most common questions you might have on this.
Is Geofencing Marketing the Right Strategy for My Business?
If you are curious about geofencing marketing, you might want to ask yourself some of these questions:
Am I easily reaching my customer base with targeted messaging? Can I do better?
Am I struggling to get my customers' attention?
Am I happy with the level of awareness about my brand?
Am I spending my marketing budget efficiently?
If you answered no to one or more of the questions above, you might want to consider geofencing marketing and its many benefits.
What Are the Benefits of Geofencing Marketing?
The following are some of the benefits of geofencing marketing:
Better Targeting
Geofencing marketing allows you to hyper-target your customers based on their location within your virtual perimeter.
Efficient Spending
If you send a message or ad at the right time and place, your chances of 'converting' are much higher than the average.
Improved Data Collection
You can combine the offline data that you gather through geofencing marketing with your customers behaviour when they are online.
This will most likely lead to an improvement in the way you both collect and use data.
Personalised Customer Experience
Depending on the location that your geofence is set on, you can customise your messaging based on the demographics and geographical area you are targeting.
Competitive Advantage
As I wrote before, theoretically you can put your geofence around your competitors' locations and lure their customers away (source: smartbugmedia.com):
Back in 2016, Dunkin Donuts famously utilized geofencing technology to lure customers away from the competition by creating geofences around other coffee shops in the area and sending targeted ads to those prospects. Of the 36 percent that clicked on the offer (a coupon), 18 percent saved the coupon and 3.6 percent returned to redeem their coupon.
Enhanced Local Sales
By sending coupons and promotions to locals, you can greatly improve your conversion rates from your geographical area.
Increased Customers Loyalty
If you are not spammy about your geofence marketing, you can use it to your advantage by increasing your customers loyalty.
By providing a personalised experience (and maybe a discount too), you will greatly increase the chances for new customers to become repeat business.
Improved User Engagement
Thanks to the extra sets of data collected, you can experiment with different call to actions and improve the engagement rates for your marketing campaigns.
Now that you know the benefits, let's look into more hands-on info you might need to know before launching such a marketing initiative.
Tips to Add Geofencing Marketing to Your Digital Marketing Strategy
Below you can find a list of tips that you can use for including geofencing marketing in your digital strategy.
Choose the Right Size
You might want to start with a geofence that is not too broad (source: smartbugmedia.com):
The general rule is to keep your geofencing to a four- or five-minute travel radius (walking or driving).
Have a Clear Call to Action
In your messaging, you want to make sure that:
You include a clear call to action
Your call to action needs to require immediate action
For example, a message 'Last day of 30% Off All Stock' will work much better than '30% Off All Stock All Week'.
Use Multiple Marketing Techniques
Make sure you combine geofencing marketing with other marketing strategies for best results (source: webfx.com):
Context targeting: A targeting option that shows an ad that's relevant to the content on the page, such as an ad beside a news article about local restaurants.
Content targeting: A targeting tool that targets keywords used in searches, as well as the intention of those keywords. If you have content for the keyword, "restaurants with private dining areas," you'd ensure the content discusses your private dining area and options.
Retargeting: A targeting strategy for marketing that shows an ad to users that have viewed a product on your website, such as after visiting your storefront.
Dayparting: A targeting technique that targets users at certain times of day, better known as ad scheduling. If you have a target audience that's active on the weekdays, for instance, you may only run your promotions Monday through Friday.
Research Your Audience
Because it's all about offering a personalised experience, you should make sure to research and know your audience extremely well.
Respect Privacy
Last but not least, don't be spammy and respect your audience's privacy.
Geofencing Marketing Tips by Industry
Below I am listing some ideas on how different verticals and industries can make use of geofencing:
Retailers can set a geofence around their store and offer a coupon, deal or discount every time a customer passes by
Real estate agencies and auctioneers can set a geofence around houses that are on sale and send a personalised message each time a potential buyer passes by
Car dealers could aggressively set up a geofence around their competitors' locations and send a personalised message as soon as one of their customers walks out of the dealership
Event organisers can use geofencing to communicate with the event attendees
How to Set Up a Geofencing Marketing Campaign
If you got to read this far, it means you are seriously considering to launch a geofencing marketing campaign.
I am now going to explain in detail how you can do that. For this exercise, I am going to use a tool called Beaconstac.
Disclaimer: please note I am not an affiliate of Beaconstac and I am not suggesting that this app is better than the others. I am only using it for the purpose of this article.
In fact, there are other tools you can use, which I write about later in this article.
To set up a geofencing marketing campaign with Beaconstac:
Integrate your app SDK with Beaconstac (if you don't have an app, you can use Beaconstac's DIY app builder on Shoutem.
Create a geofence
Build a landing page, form and / or custom URL
Collect and analyse the data
Tweak and optimise
1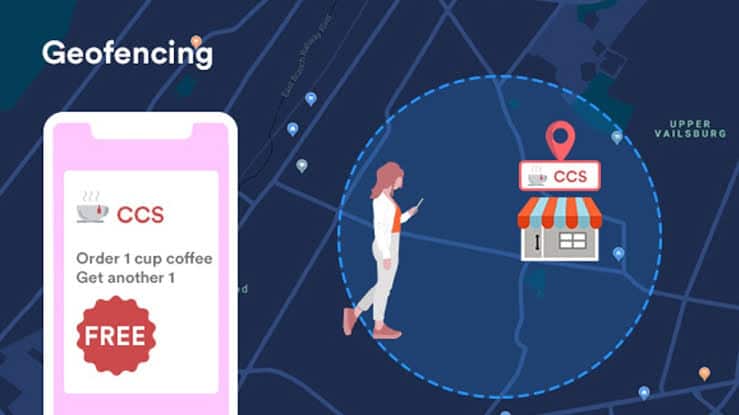 2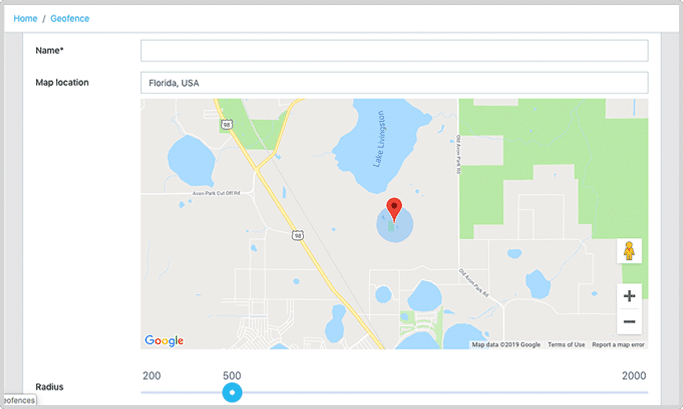 3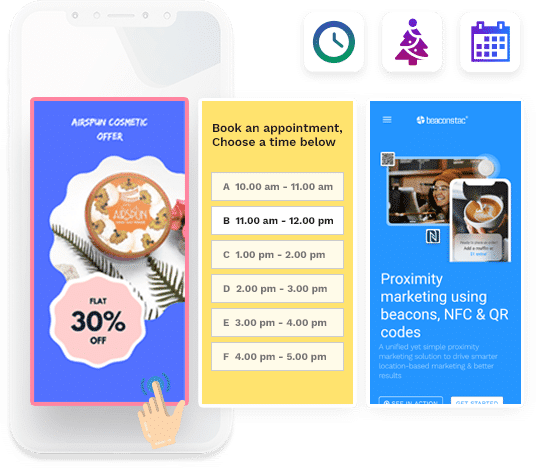 4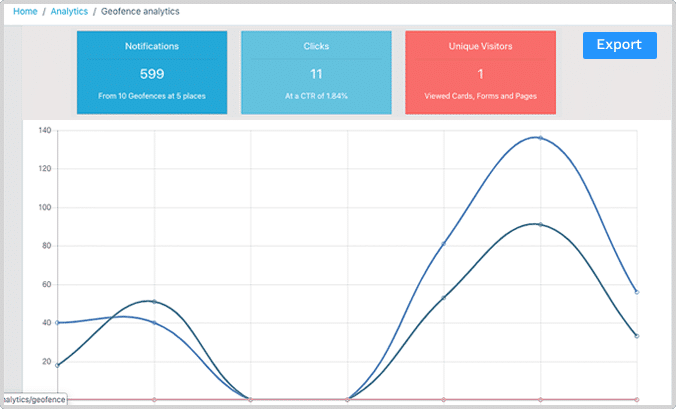 5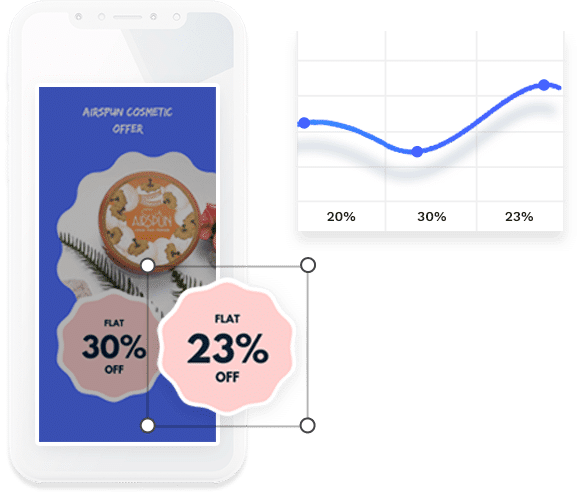 How Much Does a Geofencing Marketing Campaign Cost?
As always, this depends on your goals and objectives.
The advertising budget for a geofencing marketing campaign can go from €1,000 to €30,000.
Management fees from agencies for creating and managing a geofencing marketing campaign are between €250 – €1,500 a month.
Third party apps you might need also charge a fee, generally a monthly plan. In the case of Beaconstac, it charges $166 a month for up to 20 geofences on both Android and iOS.
Finally, some platforms might charge fees too: for example, Snapchat charges $5 for targeting 20,000 square feet.
Where to Set Up a Geofence
The following are ideas about setting up the location of your virtual perimeter:
Your business location
Your competitors' business location
Nearby events
Nearby streets and stores
Shopping centers
Airports
Apartment complexes
Nearby schools and workplaces
Geofencing Marketing: Tools, Apps and Software
This is a selection of tools, apps and software you can use for your geofencing marketing campaigns:
Geofencing Marketing: Case Studies
Geofencing marketing has been used successfully by a number of well-know brands. This is a selection of the most popular case studies:
Conclusion: the Future of Geofencing Marketing
Despite some concerns regarding the privacy implications, the geofencing industry is expected to grow over 27 percent by 2022.
If done correctly, geofencing can significantly increase the level of brand awareness and sales for your brand (source: spinxdigital.com):
If you're trying to drive traffic to your brick-and-mortar locations, geofences around each location that entice customers with limited time promotions are fantastic tools that leverage location data in your favour.
I hope you liked this article. If so, please feel to comment below, link to and share the article on your social media. Thanks for your attention!
Sources
Images
Please let me know if you liked the post. Just click on one of the two buttons