Google My Business Verification during COVID-19, Updated 21st March 2020 – Verifying your Google My Business listing during the Coronavirus outbreak might prove challenging.
In this post I am going to explain what to do if you are struggling with verifying your GMB listing.
If you want to know how to temporarily update your business listing, make sure you read my previous post on how to update Google My Business during COVID-19.
Google My Business Verification during COVID-19
How to Verify Your Google My Business Listing?
Google gives you a few options:
Mail
Phone
Email
Instant Verification
Bulk (+10 Listings)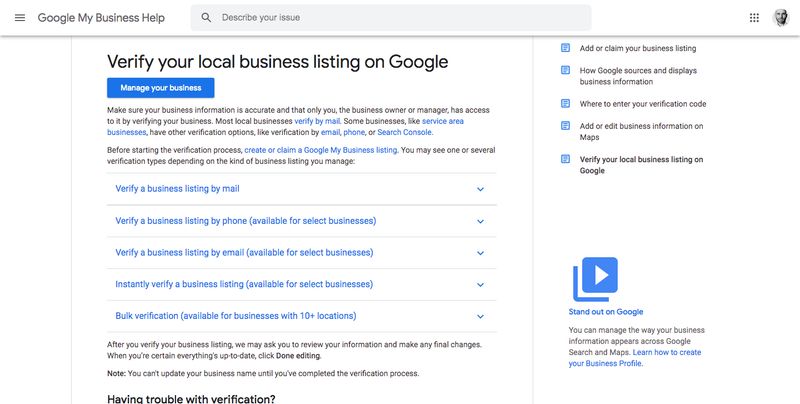 The majority of small and medium businesses get to do their Google My Business verification by mail (the other options are available only for selected businesses).
An actual postcard is sent to the physical location of the business within 2-3 weeks from the request.
The postcard includes a PIN that you need to use to verify the listing.
Google My Business Verification during COVID-19
One of the challenges of verifying your business during COVID-19 might be that the physical location of your business is actually closed.
Another challenge might be that the postcard never makes it to your premise, like in the case of this user:

What to Do If Google My Business Verification by Mail Fails
If you can't verify your business listing by mail and you have already waited more than three weeks, you can try one of the following methods:
Talk to a specialist
Facebook support
Twitter support
Flag a Verification Code Issue (Form)
Note that Google states how 'As a precautionary health measure for our support specialists in light of COVID-19, we're operating with a limited team'.
At the time of writing, I have already raised the issue on two of the contact methods listed above, Facebook and Twitter, and I am still waiting for a response.
In a recent official answer Google states:
Our support team will manually review new listings, claims, and verifications for critical health-related businesses. While we prioritise these critical services, please expect a delay for publication of new listings, claims, and verifications for other types of businesses to Google Search and Maps.
Sources
https://support.google.com/business/answer/7107242?hl=en
https://unsplash.com/@gaspanik
https://support.google.com/business/answer/9792336
Please let me know if you liked the post. Just click on one of the two buttons