How to Update Google My Business during COVID-19, Updated 5th June 2020 – In this article I will explain how to update your Google My Business Profile for businesses affected by COVID-19.
In previous articles I wrote about how to address the most common Coronavirus FAQs, while in another I gave some real-life examples of Coronavirus marketing from restaurants, cafes and takeaways.
If you are interested in the topic, I have written a comprehensive guide for both customers and operators on takeaways and coronavirus.
To learn more about the optimisation of Google My Business, please send us an email or check our SEO services.
How to Update Google My Business during COVID-19
What is Google My Business (GMB)?
In the words used by Google:
Google My Business is a free and easy-to-use tool for businesses and organisations to manage their online presence across Google, including Search and Maps.
In brief, Google My Business is where you can edit and display business informations such as opening hours, services, description, etc. The data will be used to populate a rich featured snipped on Google search like this one…

…and your listing on Google Maps:

How to Verify Your Google My Business Listing?
To verify your listing, Google gives you a few options:
Mail
Phone
Email
Instant Verification
Bulk (+10 Listings)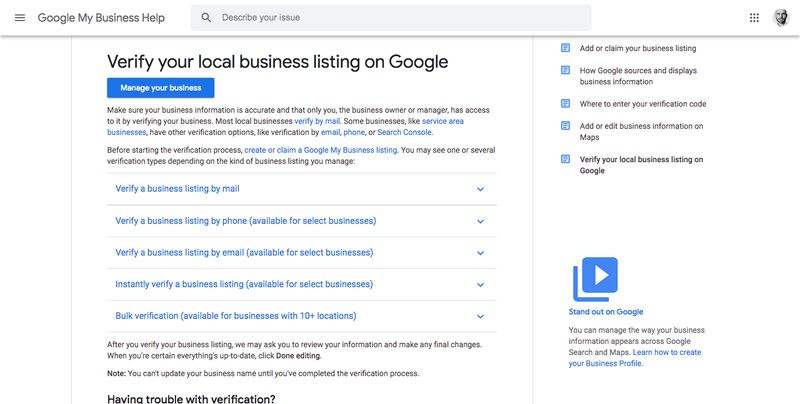 The majority of small and medium businesses get to do their Google My Business verification by mail (the other options are available only for selected businesses).
An actual postcard is sent to the physical location of the business within 2-3 weeks from the request.
The postcard includes a PIN that you need to use to verify the listing.
How Do I Access Google My Business?
To access Google My Business, enter business.google.com in your web browser bar. You will see a screenshot like this:

Simply click on 'SIGN IN' on the top right of the screen.
Disclaimer: this article is not about creating a Google My Business listing from scratch. If you don't have one and you don't know how to create it, please email us at info [at] increasily.com.
Google My Business Verification during COVID-19
One of the challenges of verifying your business during COVID-19 might be that the physical location of your business is actually closed.
Another challenge might be that the postcard never makes it to your premise, like in the case of this user:

What to Do If Google My Business Verification by Mail Fails
If you can't verify your business listing by mail and you have already waited more than three weeks, you can try one of the following methods:
Talk to a specialist
Facebook support
Twitter support
Flag a Verification Code Issue (Form)
Note that Google states how 'As a precautionary health measure for our support specialists in light of COVID-19, we're operating with a limited team'.
At the time of writing, I have already raised the issue on two of the contact methods listed above, Facebook and Twitter, and I am still waiting for a response.
In a recent official answer Google states:
Our support team will manually review new listings, claims, and verifications for critical health-related businesses. While we prioritise these critical services, please expect a delay for publication of new listings, claims, and verifications for other types of businesses to Google Search and Maps.
If you are the owner of a verified Google My Business listing, you will have received by now an email from Google about COVID-19>
To contact business that might be affected by COVID-19, Google claims to use an AI-powered technology called Duplex.
You can read more in this post by Google CEO Sundar Pichai.

To edit your business hours, description, phone number of to create a post, simply click on the corresponding buttons.
As soon as you Alternatively, you can log into your GMB profile as you would normally do. You should be able to see something like this:

If you scroll down, you will then see a dedicated section about COVID-19:

If you click on 'Learn more', you will be taken to a dedicated section with general info about how to change your business hours and description and how to create a post.
How Do I Update Google My Business Opening Hours?
How Do I Update Google My Business Description?
How Do I Create a Post on GMB?
I hope you find this post useful. If so, please share.
Also in support of people that are currently being laid off, I am running free online classes where I teach some useful digital skills.
Next class is Saturday, March 21st 3 pm GMT. It's a class aimed at Beginners / Intermediate. In the class I will teach you how to create a website by using WordPress.
How Can I Change My Business to Takeout and Delivery Only in Google My Business?
How Do I Mark My Business as Temporarily Closed on Google My Business?
As of Wednesday, March 25th you can only mark your location as temporarily closed by contacting the Google Maps support team.
In the original post by Google, CEO Sundar Pichai confirmed 'we'll make it possible for businesses to easily mark themselves as "temporarily closed" using Google My Business'.
Note by the author: I noticed this option in place for some businesses in Ireland.
Follow the steps in this video to mark your business as 'temporarily closed' on Google My Business and Google Maps.
What to Do If Your Business Has Been Marked as Temporarily Closed
Google is sending emails to Google My Business owners to let them know that their business listing has been marked as 'temporarily closed'.
I received the email for Increasily on April 9th.

My business, a Digital Marketing Strategy Agency, is still operating so I had to update the status for my listing.
If your business is still operating and it has been marked as 'temporarily closed' by Google, you will need to update your status by logging into your Google My Business listing (see steps for 'How Do I Mark My Business as Temporarily Closed on Google My Business'.
How to Add Service Hours on Google My Business?
Are Google My Business Review Replies Available during COVID-19?
In an official answer, Google confirms that 'new reviews, review replies, and new Q&A will be unavailable during this time'.
In a post that I first saw on April 10th, Google confirmed that 'review replies are now available. New user reviews, new user photos, new short names, and Q&A will gradually return by country and business category'.
How to Update Google My Business during COVID-19: Sources
Google My Business: https://support.google.com/business/answer/3038063
Google My Business (COVID-19): https://support.google.com/business/answer/9773423?p=covid&visit_id=637202071953831199-3140591623&rd=1
Google Blog: https://blog.google/inside-google/company-announcements/covid-19-how-were-continuing-to-help
Search Engine Land: https://searchengineland.com/google-to-show-which-local-businesses-temporarily-closed-in-search-maps-amid-coronavirus-outbreak-330756
Google Support: https://support.google.com/business/answer/9792336
https://support.google.com/business/answer/7107242?hl=en
https://support.google.com/business/thread/33949353?hl=en
https://support.google.com/business/answer/9792336?hl=en
https://unsplash.com/@gaspanik