Coronavirus FAQ for Restaurants, Cafes and Takeaways, Updated 8th April 2020 – According to some data table shared by OpenTable, the number of seated diners is down 54% in Dublin and 52% in Ireland YoY (as of March 14th). For comparison, London is down 31% and UK is down 20%.
98% in Ireland and 100% in Dublin YoY as of March 19th. UK is down 91% and London 100%.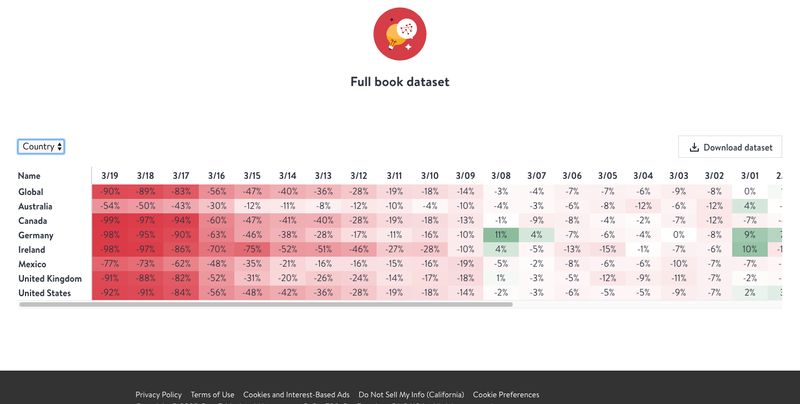 The number of 'seated diners' includes 'phone, online, and walk-in diners'.
The Restaurants Association of Ireland said restaurants were dealing with up to 80% corporate cancellations (source: Fora.ie).
"We have lost €10,000 worth of bookings in the past week alone." John Healy, GM of Suesey Street in Dublin 2 (source: Irish Times).
It's from yesterday, March 14th the government of Ireland has asked all bars and pubs to stop operations until March 29th.
In the current climate, your digital channels, website and social media above all, are particularly important.
For those businesses that are still operating, keeping an open channel with your customers is vitally important.
Customers want to be reassured that if they go out for dinner they are doing so in a safe environment.
They also want to know about your policy in terms of cancellations, rescheduling, etc.
For this reasons I have put together a Coronavirus FAQ for Restaurants, Cafes and Takeaways that you can use (simply copy and paste) on your website or as a social media post.
I have also attached an infographic with a recap of the questions, if you want to use it.
It's from some research I have done across the web. I hope you find it useful.
COVID-19 is a new illness that can affect your lungs and airways. It's caused by a virus called coronavirus. For more information about Coronavirus (COVID-19) please visit the dedicated page on the HSE website.
How Can It Be Transmitted?
Coronaviruses are most commonly passed between animals and people and from person to person. The source of COVID-19 (coronavirus) is believed to be animals, but the exact source is not yet known.
The virus is commonly passed on:
directly, through contact with an infected person's body fluids (for example, droplets from coughing or sneezing)
indirectly, through contact with surfaces that an infected person has coughed or sneezed on
Experience with SARS and MERS suggest that people are not infected with the virus through food. So, it is unlikely the virus is passed on through food and there is no evidence yet of this happening with COVID-19 (coronavirus) to date.
Coronaviruses need a host (animal or human) to grow in and cannot grow in food. Thorough cooking is expected to kill the virus because we know that a heat treatment of at least 30min at 60ºC is effective with SARS (source: fsai.ie).
Currently there is no evidence of food or food packaging being associated with transmission of COVID-19. Like other viruses, it is possible that the virus that causes COVID-19 can survive on surfaces or objects such as money.
Current information suggests that the virus may survive a few hours on surfaces. Simple household disinfectants can kill it.
Can I get COVID-19 from a food worker handling my food?
Currently, there is no evidence of food or food packaging being associated with transmission of COVID-19.
Are Takeaways Safe?
For what I wrote above, currently there is no evidence of food or food packaging being associated with coronavirus.
If you want to be further reassured, make sure to find out, through their social media communication or by simply ringing them, what health and food safety protocols they have in place.
Most takeaways would also apply extra precautions, on top of their regular protocols, to reassure customers in such times.
For more details about this topic, make sure you read our Takeaways and Coronavirus: a Guide for Customers and Operators.
What Health and Food Safety Protocols Are in Place?
[ELABORATE] The most recurring questions asked about food services are:
Are restaurants / takeaways open?
Are restaurants / takeaways safe?
It's critical that in such uncertain times you reassure your customers and your health and food safety procedures and extra precautions in place at your premise.
Our staff are safeguarding your food by following strict hand-washing protocols and wearing gloves that are changed regularly.
Contactless or online / phone payment is recommended as it cuts down on person-to-person contact or cash-handling.
As food business owners (FBOs) we take particular responsibilities under food law and we comply with maintaining proper hygiene practices at all times.
In general, we will:
ensure that staff are trained appropriately in food hygiene
ensure effective supervision of staff to reinforce hygienic practices
provide the correct facilities e.g. hand washing, toilets, to enable staff to practice good hygiene
ensure staff and contractors report any physical signs/symptoms, before commencing work or while in the workplace.
keep vigilant and ensure that staff are not ill and are fit to work
[LIST ANY ADDITIONAL PRECAUTION YOUR BUSINESS HAS IN PLACE] Add any additional precautions you put in place for your business.
Are Dine-In Options Still Available?
[YES / NO AND ELABORATE] Dine-In options are not available during lockdown.
Are Your Opening Hours Being Affected?
[YES / NO AND ELABORATE] It's critical that you inform your customers about any change in your business hours.
You want to make sure your new business hours are clearly visibly on your front door.
You also want to make sure the updated opening hours are reflected on your social media profiles and on Google My Business.
You can also check my article about how to update your Google My Business listing during COVID-19.
Is Social Distancing in Place?
Social distancing is important to help slow the spread of coronavirus. It does this by minimising contact between potentially infected individuals and healthy individuals.
Social distancing is keeping a space of 2 metres (6.5 feet) between you and other people. Do not shake hands or make close contact if possible.
[LIST ANY DETAIL ON HOW YOU ARE ENSURING SOCIAL DISTANCING FOR YOUR CUSTOMERS] If a queue is formed outside your premise, how are you going to ensure social distancing is in place?
[ADD YOUR OWN CORONAVIRUS FAQ]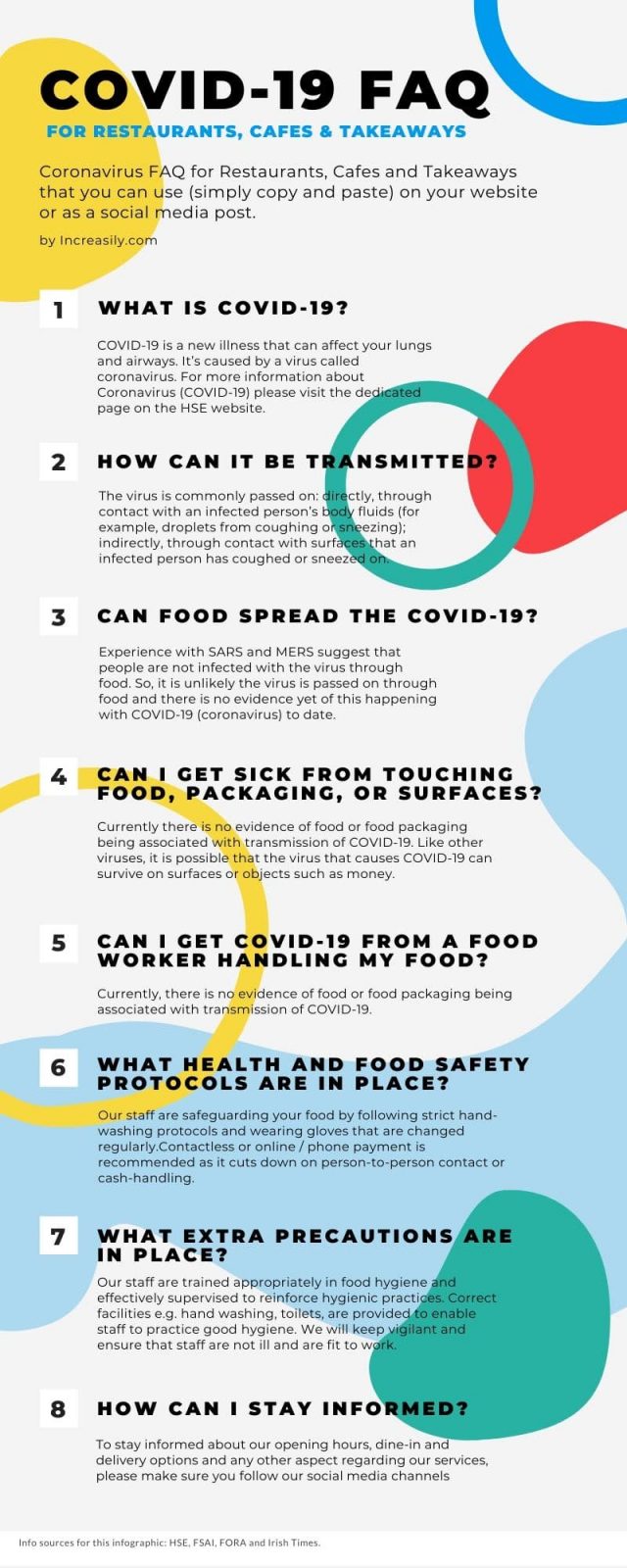 There are probably more Coronavirus FAQ that you can answer but hopefully this will get you started.
I would recommend sharing this on your website. Simply create a new page and copy and paste the content.
I would also recommend that you share it as a social media post and that you also create a post on your Google My Business listing.
If you liked this article, make sure you also read our Coronavirus Marketing Examples from Restaurant, Cafes and Takeaways.
Most importantly, stay safe and protect the most vulnerable in our society.
https://fora.ie/irish-hospitality-sector-5045741-Mar2020/
https://www2.hse.ie/coronavirus/
https://www.fsai.ie/faq/coronavirus.html
https://www.irishtimes.com/life-and-style/food-and-drink/restaurants-on-coronavirus-the-phone-rang-today-with-another-group-of-45-cancelling-1.4193936
Please let me know if you liked the post. Just click on one of the two buttons